Hiraeth
is the 2018 Wisconsin Welsh Weekend Eisteddfod Theme

In 2017 the Eisteddfod competition expanded to two categories:  literary arts  and visual arts.  General rules for submission in these categories for the 2018 competition are given below.
Rules for submission:
The theme for Eisteddfod entries in 2018 is Hiraeth.  This theme applies to both literary and visual arts.
Literary Arts:  This is the competition for The Chair  and calls for a poem (50 lines or less) or an essay (750 words or less) on the year's theme, Hiraeth.  To be considered, the poem or essay must hve been submitted under a pseudonym (ffugenw) by  email to  williamsnorton1858@centurytel.net   no later than the specified deasline date.  For the 2018 competition that date will be April 20.  Poems and essays may be written in Welsh or in English. 
To win the Chair, the writer must be present at the Eisteddfod chairing ceremony.
Visual Arts: (new competition begun  in 2017)  This is a competition for The Crown.  A work of art, including but not limited to  paintings, photographs, ceramic pieces, sculptures, textile art pieces such as quilts, knitted or crocheted pieces, or  weavings must be submitted no later than 12:30 p.m. on May 5, 2018, the day of the crowning ceremony.  Pieces must be labeled with a pseudonym (ffugenw) and title  and also include a brief statement about  how the piece was created and its connection to the theme.  The piece submitted must have been created specifically for the Crown competition.   (See the example below of the statement submitted with the winning entry for the 2017 Crown competition.)
To win the Crown the artist must be present at the crowning ceremony.
Entries for either the Chair or Crown competitions must be original works created for the competition.  Each entry  will be judged on the quality of the work as well as how well the work expresses the theme.
As stated above, writers and artists must be present at the chairing and crowning ceremonies.  All who contribute to the competition will be recognized at the ceremonies and awarded prizes of honorable mention.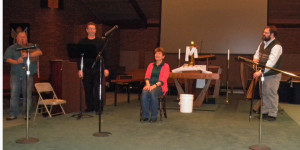 Carolee Schultz (Hope) was chosen Bard of the 2016 Welsh Weekend for Everyone Eisteddfod by adjudicators (l-r) John Good (playing pipe), Trefor Williams (singing) , and Robert Humphries (with sword)

2015 Chairing Ceremony for newly chosen Bard Danny Proud (Dai Canol-Daleithiau) performed by Robert Humphries, left, and Elfryn Thomas , right, during Nawfed Penwythnos Cymreigi I Bawb
To encourage appreciation of  Welsh culture and tradition, an eisteddfod competition was held at Trydedd Penwythnos Cymreig i Bawb in 2009 and a chair awarded with traditional pomp and ceremony.  In each subsequent year we have repeated the process with the help of contributions of chairs and adjudication of entries by volunteers.  In 2011 the competition was expanded to include not only entries in the form of poetry but also in essay form.  Each year has had a theme connected to the location of the Welsh Weekend.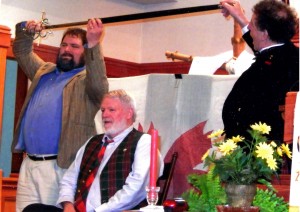 2014 Chairing Ceremony for  newly chosen Bard Joseph Corbin conducted by Robert Humphries, left, and Trefor Willimas, at right, during Wythfed Penwythnos Cymreig i Bawb  (photo by Ruth Peterson)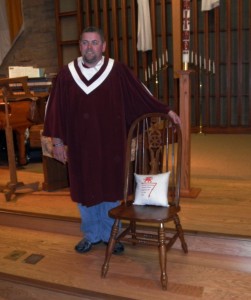 Bardd David Elfryn Thomas a'r Gadair Eisteddfod 2013 yn ystod Seithfed Penwythnos Cymreig i Bawb
Past Winners
Year                     Chaired Bard                                                                                Crowned Artist
2009                      Hugh Davis
2010                      Robert Humphries   (Theme:  Heritage)
2011                      Mary Williams-Norton (Theme:  Harvest)
2012                      Diane Lasceski-Michaels (Theme:  Do the Right Thing)
2013                      David Elfryn Thomas (Theme: Paper)
2014                      Joseph Corbin (Theme:  Between Rivers)
2015                      Danny Proud (Theme:  Peacemakers)
2016                      Carolee Schultz (Theme:  Rainbow)
2017                      Dale Hughes               (Theme:  Spring)                                      2017     Mary Williams-Norton
Chairs have been donated by Mona Everett (2009 and 2011), Jeanne and Neal Shera (2010), and Mary Williams-Norton (2012 , 2013, 2014, 2015, 2016), and 2017).
The Winning Entries
2009
21ain Hydref 1966 / October 21st, 1966 by  Aneirin *
Off to lessons, this morning like every other Allies met on the way; hearsay, jokes and plans exchanged Hushed and rushed to gather for assembly The children sang All Things Bright and Beautiful
Fathers trudged off to war The hardened, black enemy resolute against their onslaught Trophies of the campaign ascended skyward In silent witness to their victories
Mothers in flowered aprons and worn slippers, Morning departure ceremonies concluded, Paused for a cup of hot tea With two sugars and blissful ignorance
The preacher down the lane began the day on his knees As always, in covert conversation with his Creator "Thank you, O Lord, for this day and its blessings" The children sang All Things Bright and Beautiful.
* © 2009 Hugh Davis
(At 9:15 am on Friday, October 21, 1966, a coal waste tip slid down a mountainside into the mining village of Aberfan in South Wales.  The slide engulfed several houses and Pantglas Junior School.  144 people died in the disaster; 116 of them were schoolchildren.)  
2010 (Theme:  Heritage)
Etifeddiaeth
gan  * Darllenir yn y dras y glod
A blethir yn y gadwyn bod Sef glasbrint bywyd anghenraid; Ein hysgol i'r hynafiaid.
Merched Beca, meibion bro, Merthyron y meysydd glo; Y rhai i ffosydd Fflandrys aeth; Arwyr Aneurin, ffyddlon, ffraeth;
Gwenllian lew, a'r lodes lân A aeth yn santes ar wahân; Amaethwyr teilwng, mamau'r tir A faethai'n llinach, hynafol, hir;
Y Mab Darogan a'i wrol lu, Bôn y bonheddig Gymru fu; Cnafon clyfar, cywyddwyr craff, Y rhai ddihangai rhag y rhaff,
A'r gwasgaredig, gadwai'r iaith Yn fyw, dros ganrif ar y paith, Cefndryd y cyfandiroedd pell; Ysgrythwyd popeth yn y cell.
Ond tu hwnt i'n hanes tyn Mae etifeddiaeth fwy na hyn: Mewn gwead gwaed, ein dynol dras, Ar dapin fyw y ddaear las.
Pob moliciwl a ymolcha'r glaw, Pob rhyw atom a atom ddaw Yn rhan ohonom, ac ar y gwynt Anadlwn ni genhedloedd gynt.
O Gaer Gwydion, a'i ddisglair graidd, O ddyfnder amser, wrth ei wraidd; O sylfaen sêr i'n marwol gnawd, Ein llinach ni yw'r byd—a'i ffawd.
2011 (Theme:  Harvest)
Harvest for the Soul of a Nation by   Cytser *
              An agricultural harvest at the end of a growing season provides a livelihood for growers and sustenance for the nation that depends upon them.  There is another type of harvest, an intellectual and spiritual one, whose yield is an educated populace ready to expand and share the culture that has nourished it.  In Wales the support and growth of Welsh-medium education and Y Cwricwlwm Cymreig have nurtured the culture of the nation.  A harvest rooted in Welsh culture and brought to fruition by dedicated educators is the bounty I shall explore and celebrate. The hardiness of Welsh culture and language despite attempts to drive it into extinction is impressive.  During the early 20th century the use of the "Welsh Not" in schools  associated speaking Welsh with humiliation and corporal punishment.  The climate for Welsh in school improved very slowly until the formulation of the Education Act of 1944.  The Act included the "critical clause:  'children shall be educated in accordance with the wishes of their parents'." (Williams, p. 11)  This simple statement made it possible for schools to be set up to teach pupils all subjects through the medium of  Welsh.  The seed sown by that statement in the Education Act of 1944 found fertile ground in Wales and Welsh-medium schools sprung up around the nation. Unfortunately there was virtually no special financial support for Welsh-medium schools and the resources they required.  Those dedicated to them recognized, of course, that cultural enrichment is not a luxury to be enjoyed only by wealthy nations or privileged students.  John Greenleaf Whittier is quoted as stating " If thou of fortune be bereft and in thy store there be but left two loaves, sell one and with the dole buy hyacinths to feed they soul." I know this quotation well because my mother, whose grandparents had emigrated from Wales in the 19th century, quoted this whenever she sought to emphasize the importance of learning about science, history, art, languages, or literature.   Parents and teachers in Wales worked extraordinarily hard to establish and maintain Welsh-medium schools for all interested children despite financial hardships. Gradually Welsh-medium education became available in more areas and could accommodate more children.  Eventually even those children with special educational needs were not forced to give up their native language because special-education programs became part of Welsh-medium education.  Evaluations of student learning have shown that children in Welsh-medium schools achieve at levels equivalent to or above those of counterparts in English-medium schools, so enrollments in Welsh-medium schools continue to increase.  Reliable public transportation and school choice mean that families often have a variety of available schools available for children to attend.  Continuing favorable educational outcomes in Welsh-medium schools promote their popularity. Now all schoolchildren in Wales must study the Welsh language through age 16.  In addition to language study, children are also given the opportunity to learn about Welsh culture, history, geography, plants, and animals as part of Y Cwricwlwm Cymreig,.   The philosophy of this curriculum is expressed beautifully in  "Y Cwricwlwm Cymreig Policy" of St. Andrews Major Church in Wales Primary School, Dinas Powys.  Their policy document states (at) "St Andrews Major Primary School we are proud of our heritage and through studying the 'Welsh dimension' in all areas of the curriculum pupils are made aware of the special nature, culture, history, language and ethos in Wales.  When entering our school visitors should be aware that ours is a school in Wales.  Opportunities for including reference to Wales in all subjects are identified through planning, resources and use of local references." (Y Cwricwlwm Cymreig Polity, p. 2) This curricular advancement in place across Wales is promoting a bountiful cultural harvest of pride.  Advances such as Welsh language study in all schools and Y Cwricwlwm Cymreig are likely linked to the increase in the percentage of Welsh speakers from 20.8% in 2001 to 21.7% in 2004 (Wikipedia, "Welsh language", p.1).  Instruction in the Welsh language is also offered in many university courses.  Bangor University and Aberystwyth University have particularly extensive offerings in areas ranging from education to history and geography.  At any age a learners can expand their cultural and linguistic horizons. The establishment of flourishing Welsh-medium education and learning about Wels through Y Cwricwlwm Cymreig were a challenge to all who labored to bring these improvements about.   All who treasure Welsh connections rejoice in the bountiful intellectual harvest they given Wales and the world. (742 words) * Mary Williams-Norton References: Our Children's Language, Iolo Wyn Williams (ed.) (y Llollfa, 2003, p.11) "Y Cwricwlwm Cymreig Policy" from C\St Andrews\Policy Documents Approved\policies.doc\Cwricwlwm Cymreig Policy.doc, p. 2 http://en.wikipedia.org/wiki/Welsh_language , p. 1    
  2012.
(inspired by the bave and defiant actions of Reedsburg citizens on behalf of their Native American neighbors and friends in 1873):
Theme:  Do the Right Thing
Gwnewch y Peth Cywir
Fy Nhroed Dde /    (My Right Foot)
Along this unbroken journey, Of threescore years and a few odd, My Left, my Right and I together, With countless steps have trod. I thought we three would walk forever, Through endless day and night, But suddenly my Left and I, Must go on without our Right. The grief of misfortuned parting, Washed over us wave upon wave, As a hurricane drives the sea before it, Sweeping ev'rything away. Tho' somehow through loss and imperfection, We glean the grains of perfection we seek, While Light beyond each bend in the road, Gives strength to the weary and weak. So with thanks I bid farewell to Right, For it gave Left and I the chance, First to walk, then to run, And finally to dance. The memory of how we moved, Lives within, rehearsed and refined, As my Left, new Right and I together, Summon the dance, one step at a time.
Hafgan Medeni ** 2012
Poet's note:  This poem was written for my friend, Joe Corbin, and his family after he lost his right foot in an accident in November of 2011.  It took a lot of courage to do the right thing and make a very difficult decision in order to move forward with their lives.  I didn't write the poem with the intention of sending it out into the world because their experience was a very personal one, but Joe's wife, Kim, suggested that I enter it in the Eisteddfod.  In freely expressing the emotion surrounding great loss, perhaps healing can also be a shared experience.                                          ** Diane Lasceski-Michaels
2013 (Theme:  Paper)
"Papur" gan  Y Gwas Bach
Dros ddau can mlynedd yn ôl fe ddechreuodd y papur newydd "The Carmarthen Journal". Wedi cael fy ngenu yng Ngaerfyrddin yn 1977, yr wyf wedi darllen lawer i gyhoeddiad ar hyd y blynyddoedd. Maer papur yma yn cael ei ddosbarthu dros de gorllewin Cymru ac mae na erthyglau yn gymraeg a seisneg ynddo ac yn awr cewch ei weld ar y we hefyd. Mae'r papur yn dathlu  pen blwydd yn ddau cant a thri oed ac yn cael "make over" arbenig i dathlu'r achos. Fe fydd y papur o hyn ymlaen yn  edrych mwy modern ac yn fwy deiniadol i bawb, mae'n bwysyg cael darllenwyr ifanc i gadw'r papur i fynd. Mae yna pob fath o bethau ynddo, o hanes priodasau, marwolaethau, genedigaeth, hysbysebion, i stori ddadleuol. Mae y "Carmarthen Journal" fel llyfr hanes yn dweud hanes fy mro genedigaethol, dim ond eisie mynd i lyfrgell Caerfyrddin sydd eisie ac fe gewch holl gopiau a argraffwyd yno ar ffilm micro. Yno aethom un dydd i holrain hanes hen ewythr i mi, wel, i ddweud y gwir tri ohonynt.  Wyddom  bod hanes diddorol iddynt ond dim beth oeddy rheswm i gael eu henwau mewn "print". Yn gyntaf dyma fi yn edrych am bapur o ddyddiad y rhyfel mawr 1914 -1916.  Yno oedd erthigl am y bechgyn a laddwyd dros ei gwlad, bechgyn o Gaerfyrddin 36 ohonynt, ac yn ei misg oedd fy hen ewythr sef Jonny Thomas.  Doedd dim sôn da'n teulu amdano fe ond dywed y papur ei fod wedi mynd i ymladd yn yr Aifft ym Mehefyn 1915 ond erbyn yTachwedd  'roedd wedi marw o anafiadau rhyfel. Claddwyd ym mynwent yn Alexandria, does neb or teulu wedi cael y cyfle i fynd yno eto sydd yn druenu mawr. Edrychais wedyn ar gopi o'r "journal yn 1925 ac yno oedd hanes brawd yr uchod sef hen ewythr arall, Cethin Thomas. Stori druenus dros ben a'r teulu eto ddym yn siarad amdano.  Aeth Cethin a'i ffryndiau un noson i'r dafarn leol ar ôl diwrnod called o ffermio i gael "peint" ond aeth un yn ddau ac yn y blaen.  'Roedd y bechdyn yn llawn hwyl a sbri wrth gerdded yn ôl i'w ffermydd, penderfynnu i alw gan wejen Cethin i ddweud shwd mai ond fe glywwodd ei meistr y bechgyn yn galw ar yr eneth ac fe dynnodd ŵn a saethu allan drwy ffenestr y lloft ac fe anafwyd Cethin  a fu farw.  Cafwyd y ffermwr yn euog o lofruddiaeth ac aeth i'r  carchar ond am rhyw reswm ni gafodd ei grogi. Y trydydd  hanes sydd yn y papur y'w Walter Jones cefnder fy mamgu yn gadael ei famwlad yn 1930 a mynd i'r Unol Dolaethau i fyw ac i stydio amaethyddiaeth ac economi ym Mrhifysgol Harvard. Mae un hanes a oedd yn y papur 'rwyf wedi ei ollwng allan ac i fi hwn sydd mwyaf pwysig sef fy hanes i fy hun.  Hanes bachgen 19 oed o Gaerfyrddin yn mynd wrth ei hunan i Brifysgol Minesota i stydio amaethyddiaeth ar ôl dwy flynedd ym Mrifysgol Aberystwyth. Dioch i bapur y "Journal" am gadw hanes fy nheulu yn fyw ac ar gael i deulu y Thomas' yn y dyfodol.
2013 (Transation:  "Paper" by David Elfryn Thomas)
Over two hundred years ago "The Carmarthen Journal" was launched. A weekly newspaper for the Carmarthen and west Wales area. Having been born in Carmarthen in 1977, means that I have read quite a few publications over the years.  In it you find articles in English and Welsh and by now you can read it on the internet. The paper is celebrating its two hundred and third birthday and is having a special "make over" to celebrate the event.  The paper will look more modern and more appealing to everyone, it is essential that it appeals to the younger generation to keep the paper alive. In it you find all kinds of articles from wedding reports, death and birth announcements, advertisements, local news to controversial reports. The "Carmarthen Journal" is like a history book giving facts about my local area, the place I was born.  You only need to go to the local library and you will see all the publications on microfilm and that is where I went to one day to find out about some family history I had heard about. I began by looking at publications during the First World War; I needed to know about my great uncle who had died fighting for his country.  In it I found an article about the men from the Carmarthen area, thirty six of them, who had died in the Great War.  Amongst them was Uncle Jonny.  The family did not know where he fought, or what had happened to him but, the Journal stated that he left for Egypt in June 1915 and by November he had died of war wounds.  He was buried in the British War Cemetery in Alexandria. Unfortunately none of the family has been able to visit the grave which is so sad. Next I looked at copies in 1925 and there I saw a report of the murder of Cethin Thomas, Jonny's brother and another of my great uncle.  This is such a sad and unfortunate tale that once more the family would not speak of it.  Cethin and his friends had gone one night after a hard day's work on their respective farms to have a "pint" in the local pub. One had gone to two and so on, when they left they were all in high spirits and made their way home on foot.  They decided to make a detour and call in the farm where Cethin's sweetheart was a maid – just to say hello.   Unfortunately the farmer heard a noise and pointed his shotgun out through the window to scare whoever was there away. As the shots rang out over the valley two of the boys were shot, Cethin fatally.  The farmer was found guilty of murder and was sent to jail, for some reason he was not hanged as was the custom then.   The third story I researched was of Walter Jones my grandmother's cousin who in 1930 left his beloved Wales and sailed to America to start a new life and study Agriculture and Economics at Harvard University. There is one other story from the paper I need to share with you and that is my own.  This to me is the most important one, a story of a 19 year old leaving Carmarthen, leaving his family and friends and going on an adventure which is still on-going.  I flew from Gatwick airport into Minneapolis St Paul and spent a year studding agriculture with the University of Minnesota.  This came about after spending two years at the University of Wales, Aberystwyth.
2014  (Theme:  Beteen Rivers)
Between Rivers by  The Royal Goat (Yr Afr Frenhinol) #
I stood between rivers, Not knowing what to do, Whether to stay or risk. Upstream, downstream, which way to go. To turn one way or the other The choice was mine alone to make. There was so much to consider, So much to weigh in the balance.  Were it so easy as I had once dreamt. It was not the fancy of youth Or the dalliance of age that kept me From making the choice. If I considered the consequence of my predicament How could I be expected to know Even after having made the choice In times before.  One way seemed the path of light Of goodness, of truth, of purity; But yet somehow still dangerous. Was the way of darkness so evident So foreboding, but yet alluring. Could I really be expected to know Which was correct, which was true? Chocolate or vanilla, no twist. submitted by The Royal Goat (Mae'r Afr Frenhinol) #Rev. Joseph Corbin
2015  (Theme:  Peacemakers)
Peacemakers 
By Dai Canol-Daleithiau  **
Peace is the calm that grows in the breast.
Peace is your patience when he's not at his best.
Peace is the spine they show with a song.
Peace is forgiveness when there's been a wrong. 
The makers of peace are builders of love.
The makers of peace find strength from above.
The makers of peace have wise words to say.
The makers of peace show others the way. 
Peacemakers are thinkers in a black and white world.
Peacemakers are drinkers of virtue unfurled.
Peacemakers are lovers of every bright mind.
Peacemakers are teachers of all humankind.
**Danny Proud
2016 (Theme: 

Ra

in

b

o

w

)
Note:  Hope is the ffugenw of Carolee Schultz
2017  (Theme:  Spring)
Literary Arts Entry: from robin goch*: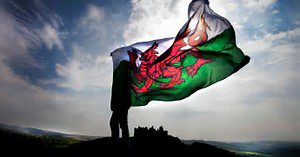 MARCH 8
Another dawn greeted by a singing cardinal
Snow vapors shroud the path
as winter floats away
Now a light rain
and air as fresh as an ocean breeze
Ah, come, Spring, come
*robin goch is Dale Hughes

Visual Arts Entry:
Aran Spring Hoodie
Designed and made by Madame Defarge**
With a rainbow of flower buttons and variety of Aran-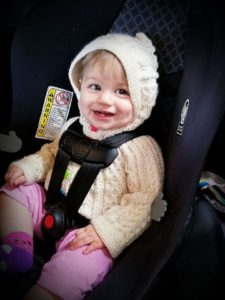 Isle patterns including antler, braided cable, honeycomb, and twisted two stitch cable, this cardigan with attached hood will keep baby warm during her very first spring.  Made of acrylic yarn the garment can be machine washed (gentle cycle, warm water) and machine dried (low temperature setting) so baby will stay as fresh and lovely as a spring day with little fuss.
**Madame Defarge is Mary Williams-Norton
      Zora Anne O. wearing the hoodie
(Note:  2017 was not only the first year of visual arts competition but also the first year when the first writer called up to be chaired did not come forward.  The adjudicators were impressed with his poem, however, so it is given below.)
(Untitled)
Spring comes singing on Snowdonia's hills,
Yet softer in the southern vales
Where dwellings crowd in straggling streets
And emptied mills and mines still mark
A looted, lyric, land.
Can we return to what before all this
Was land of songsters, shepherds, swains,
Where ancient tongue bore elder lore;
And age to age in cadence told
Brave legends of the land.
Far and away on other distant shores
The children of the valleys meet
To raise again the olden song;
Then Spring comes lilting fresh anew
With echoes of the land.
In chorus rising as with melded voice
Once more the hills and valleys ring
Recalled, remembered in their time
Of old; but still enduring now,
The beauty of the land.
Submitted by  Emplus (Grimal), The Rev. Dr. Michael John Gray-Fow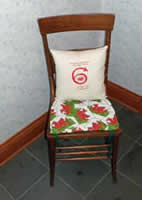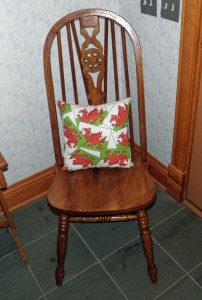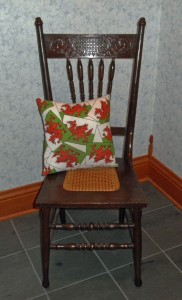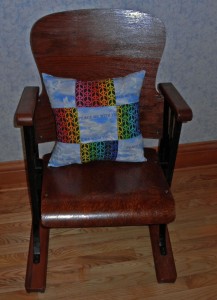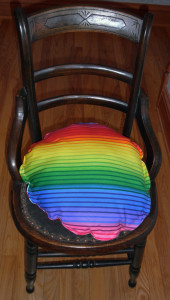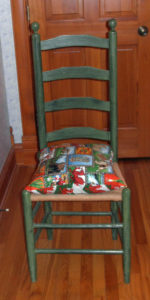 Y Gadair 2012       Y Gadair 2013      Y Gadair 2014      Y Gadair 2015    Y Gadair 2016     Y  Gasir 2017
To learn more about the tradition of the National eisteddfod of Wales, see Marilyn Schrader's informational handout prepared for the presentation by her, Ann Lemmenes, and Danny Proud at the Ninth Welsh Weekend for Everyone: