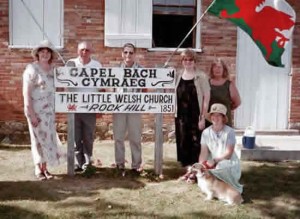 What is a cymanfa ganu?  A cymanfa ganu (or the gymanfa ganu) is a festival of sacred songs sung in four-part harmony by a congregation led by a musical director and usually accompanied by organ or piano.  The traditional singing of hymns in four-part harmony is traced back to about the 12th century in Wales and is tied to the spiritual life of Welsh people.  With the cooperative efforts of the WGGAW and other organizations in Wisconsin, cymanfaoedd canu are held at various locations in Wisconsin monthly from May (the State Gymanfa Ganu)  to November (the Christmas Gymanfa Ganu). Singing is done in both English and Cymraeg.   To see and hear a cymanfa ganu, go to 

https://www.youtube.com/playlist?list=PLXIdZfGpfWCQ-qmxXnoqUA9mZC0g-XQFk

 for Tom Guy's YouTube recording of the July, 2014,  event at Peniel Welsh Chapel in the Town of Eldorado, WI.  These festivals welcome anyone and everyone to attend, sing, and enjoy the fellowship of a refreshing te bach that follows the singing. (A favorite at the te bach is the Welsh cake or pice ar y maen.  For a version of  a recipe adapted from one from the late Olwen Morgan Welk, an inspiring presence at cymanfaoedd canu for many years, go to

http://bryncedrwydd.net/welsh-cakes-etc

.)
How can I support the activities of WGGAW?  First and foremost, plan to attend the cymanfaoedd canu and other events with your friends and family members.   The more voices join in the singing, the better each cymanfa will be!
You can also make a tax-deductible  donation to WGGAW.  Donations received before April 20 will be noted in the State Gymanfa Ganu program in the following categories:
Cyfaill / Friend             $5.00 to $24.99
Noddwr/ Patron          $25.00 to $99.99
Bardd / Bard                $100.00 or more.
Each year on WGGAW also remembers members and friends who have passed away by listing their names on the State Gymanfa Ganu program and announcing their names during the service.  Their names should be sent to Dick Myers, WGGAW treasurer, at dickmyers@wi.rr.com .  Donations can be sent in their memory as well by using the membership/contribution/ memorial gift form on this website.
The WGGAW supports the work of the Great Plains Welsh Heritage Project:
The Mission of the Great Plains Welsh Heritage Project is to discover, preserve, interpret and celebrate the history and contributions of Welsh pioneers on the North American prairies, to further public understanding and appreciation of America's ethnic and cultural diversity. 
Anyone with archival materials related to Welsh heritage should contact the Project center in Wymore Nebraska at http://www.welshheritage.org  or Dan Evan Proud, an area person working with the Project (e-mail to  derrproud@att.net  ), for futher information.
If you have questions or comments about this site, please contact Mary Williams-Norton at williamsnorton1858@centurytel.net .
(Note:  Many thanks are due to Mat Bolwerk at Ripon college for his assistance in gettin this website up and running!  Diolch yn fawr iawn iawn, Mat!)