PENIEL CHAPEL NEEDED A "FACE LIFT"
Before Repairs:
The name "Peniel" is defined as "The face of God." Peniel Welsh Chapel was far from that! The "face," or entrance, to the building had major damage occur this spring. It needed a face-lift!
A section of the concrete step has broken away. Many cracks which had been securely repaired in the past are now separated. The wooden steps were coming apart. None of the front entry was up to building code. This was a safety hazard!
The Peniel Gymanfa Ganu Association anticipated someday renovating the church front, but not this soon. We received an estimate for a composite deck and steps with an added handicap ramp. Also, we felt we should install new doors with opening windows, bringing the entire entrance to building code and handicap accessibility. The estimate received and other expenses are projected to be $17,500. The contractor wished to install the concrete and posts this fall, (hopefully before November 15), and completed the project before spring.
We  thankfully received  individual, family, and business donations to provide a safer historic chapel for summer events, worship, weddings, etc.
Here are photos of the results of the "face lift" project: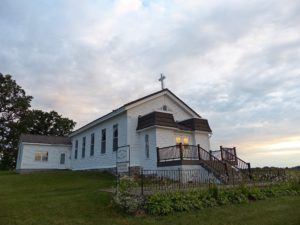 Front of the chapel (photo by Phillip White)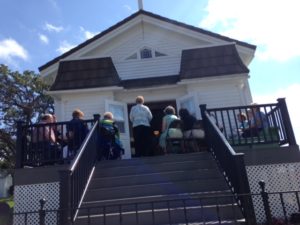 Overflow crowd at the August, 2016, Gymanfa Ganu
enjoying the new  entrance area
(photo from Carolee Schultz)
Jean White says THANK YOU!
For further information contact Carolee Schultz
920-748-3090    email:   joynjesus4you@yahoo.com
Article about Peniel Renovation: