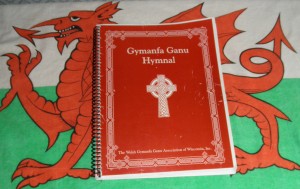 Hymnal of the Welsh Gymanfa Ganu Association of Wisconsin
The Welsh Gymanfa Ganu Association of Wisconsin(WGGAW)  makes available to those who attend cymanfaoedd canu in Wisconsin a specially designed hymnal identical to the one shown above except for its green cover.  This WGGAW hymnal contains more than 50 of the most popular hymns–Cwm Rhondda, Calon Lân, Aberystwyth, Rachie, Gwahoddiad, etc.–presented in a larger-print format with both Welsh and English verses for most  hymns.   Also provided are a pronunciation guide to Welsh,  a brief history of the WGGAW, and historical information about the gymanfa ganu as an historical and religious tradition.
A limited number of copies of the hymnal– with red cover as shown above–are available for purchase.  The price per copy is $15.00.  Contact Rev. Tom white by email at tjwhite65@charter.net or by calling (920) 922-9424 for further information about purchasing a copy.


Christmas Hymnals:
There are also a large number of old hymnals created for use at cymanfaoedd canu held in Wisconsin during the Christmas season.  Because the print is so small, they are no longer used at our Christmas Cymanfa Ganu but might be of interest to anyone interested in Welsh-American customs, Wisconsin folk history, hymnody, etc.  Anyone interested can obtain one or more copies from Rev. Thomas White for just the cost of mailing.  Contact Tom  by email at  tjwhite65@charter.net or by calling (920) 922-9424 to request Christmas hymnals.